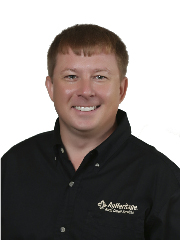 Kevin Simpson has been named VP of Lending and Branch Manager for the Brinkley branch office of AgHeritage Farm Credit Services, according to Cole Plafcan, Senior Vice President Chief Lending and Marketing Officer.
Simpson previously served as Ag Lending Officer at the Brinkley branch for eleven years. He earned a Bachelor of Science in Agriculture Business, from Arkansas State University and resides in Brinkley with wife, Katie, son, Connor, and daughters, Hailey and Maci.
Also in the Brinkley branch are J.C. Scemons, Ag Lending Officer; Carrie Grizzle, Customer Specialist and Faye Caldwell, part-time Clerical Support.
AgHeritage Farm Credit Services is a financial cooperative with owned and managed assets of approximately $1.25 billion as of December 31, 2017. It provides credit and related services to more than 2,900 farmers, ranchers and producers or harvesters of aquatic products in 24 Arkansas counties.  Branch offices are located in Batesville, Brinkley, McGehee, Lonoke, Newport, Pocahontas, Searcy, Star City and Stuttgart.